Why Hire a Limo For Non-Emergency Medical Transportation?
Harris Wilson
Limo For Non-Emergency Medical Transportation
When thinking of hiring a limo for non-emergency medical transportation, the image of an ambulance with sirens blaring often comes to mind. However, not all medical transportation requires urgency. For scheduled medical procedures, doctor's appointments, or when you need to reach the hospital without driving alone, then the perfect choice would be a  limousine. In this blog, we will explore why hiring a limo for non-emergency medical transportation is the best option, and highlight various benefits that it offers.
Why is Limo Best for limo for Non-Emergency Medical Transportation?
Quality Non-Emergency Medical Transportation:
A Limo for non-emergency medical is an excellent choice of transportation because when you choose a limo service. You can be assured that you will experience a level of comfort and service unmatched by other transportation options such as an ambulance. From relaxing seats to plush interiors, a limo provides an ambiance of relaxation and tranquility, making your medical journey more comfortable and stress-free.
Quick Services
:
In the medical world, time and punctuality are crucial for doctor's appointments and scheduled medical procedures. Hiring a limo for non-emergency medical transportation can be the most efficient service for all those members who need to arrive on time. Limo companies are renowned for their reliability and professionalism. They prioritize your schedule, ensuring that you arrive at your destination on time and with the quickest route. Thanks to experience chauffeur drivers who are well-versed in navigating the city's traffic. This also helps many people in getting their appointment on time and safe and sound. Quick service is mostly recommended for ambulances which they mostly lack in getting the patient on time to the hospital. In most scenarios, due to traffic or peak hours, a patient can even die at these critical moments.
Reduce Stress:
Medical appointments and procedures can be anxiety-inducing because many doctors have a busy schedule and if you miss that appointment, unfortunately for any reason, you may reschedule that appointment again which can make you wait for a long period. This is also a major reason that hiring a limousine can make your appointment on time at the right location. The last thing you need is the added stress of driving in traffic or searching for parking. With a limo for non-emergency medical transportation, you can leave the worries of transportation behind. The chauffeur will handle all aspects of the journey, allowing you to relax and focus on your good health. This peace of mind can significantly contribute to a more positive medical experience.
Arrive on Time with the Quickest Route:
A limo for non-emergency medical transportation service understands the importance of timely arrivals for medical appointments not even an ambulance can define that. Whether you have an early morning or late-night appointment, a limo will be there to pick you up and drop you off promptly. Our professional chauffeur drivers are well-versed in the city's roads and traffic patterns, enabling them to choose the quickest route to get you to your destination on time.
Benefits of Hiring a limo for non-emergency medical Transportation:
Here are some of the benefits of hiring a limo for non-medical transportation:
On-time arrival & Professionalism:
Hiring a limo for non-emergency medical transportation is known for its reliability. They will always arrive on time, no matter how early or late your appointment is. This is important for medical appointments, as you don't want to be late for your doctor or procedure. Our drivers are professional and courteous. Our professional chauffeurs possess extensive knowledge of the city's traffic. These experienced drivers not only ensure your safety but also provide valuable information about the city, acting as exceptional guides during your journey.
Comfort and relaxation:
Limos are well-seat comfortable. When it comes to non-emergency medical transportation, they offer the ultimate comfort. The interiors and plush seats provide a relaxing environment for patients.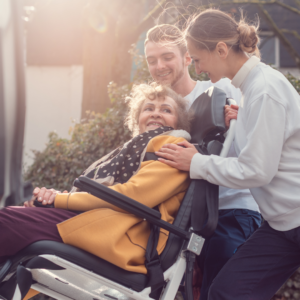 Making the journey to and from medical appointments more pleasant. Limos also offers plenty of legroom and headroom. This is important if you are traveling with medical equipment or if you have difficulty walking.
Hygiene and Safety:
For non-emergency medical transportation, hygiene and safety are paramount. Limousine services can go the extra mile to maintain cleanliness and hygiene in their vehicles. Each limo is thoroughly deep cleaned and sanitized after every ride, ensuring a safe and hygienic environment for passengers. Chauffeurs conduct regular temperature checks to ensure only healthy drivers are behind the wheel.
Convenience for Medical Procedures:
For individuals undergoing medical procedures, the stress of driving or relying on public transport can be overwhelming and very stressful most of the time. Hiring a limo for non-emergency medical transportation can eliminate these concerns by providing a seamless door-to-door service. That allows patients to focus on their well-being without distractions. Our Limo provides any kind of food, water, or medical assurance that we can provide.
Final Thought:
Choosing a limo for non-emergency medical transportation offers a level of comfort. Luxury, and reliability that other options simply cannot match. From timely arrivals to stress reduction, Sprainlimo services prioritize your well-being. Ensure a smooth and comfortable journey to your medical appointments. With experience chauffeurs, clean and sanitized vehicles, and a guaranteed ride, Sprainlimo's service is undoubted. The best choice for your non-emergency medical transportation needs. So, sit back, relax, and let a Sprainlimo service take care of your medical transportation. Allowing you to focus on what truly matters – your health. If you are looking for a reliable, comfortable, and professional way to get to your next medical appointment, then Sprainlimo is the perfect choice.